Whether you had a routine mammogram or reason to believe there was a tumor, the worst news is a callback for additional testing. If the tumor does turn out to be malignant, it is devastating news for the patient and family. But don't go it alone. Support is vital for breast cancer treatment.
Breast cancer survival rates in the U.S. depend on all types of factors. The earlier the detection, the better. Family history will often determine the severity of treatment.
Lumpectomy or Mastectomy
For instance, if the diagnosis is triple-negative, doctors have fewer options for treatment. The likelihood that cancer will return is greater. Therefore, patients often opt for a single or double mastectomy instead of a lumpectomy – removing a section of the breast.
For anyone who has witnessed a loved one go through it, it is major surgery with a long recovery time, but often the only option. If a woman opts for artificial replacements, it involves even more procedures, visits, discomfort, and expense.
Those procedures pale compared to losing a loved one, so a medical team, family, and support are vital. No one can put themselves in the patient's shoes, but they can find creative methods to support them.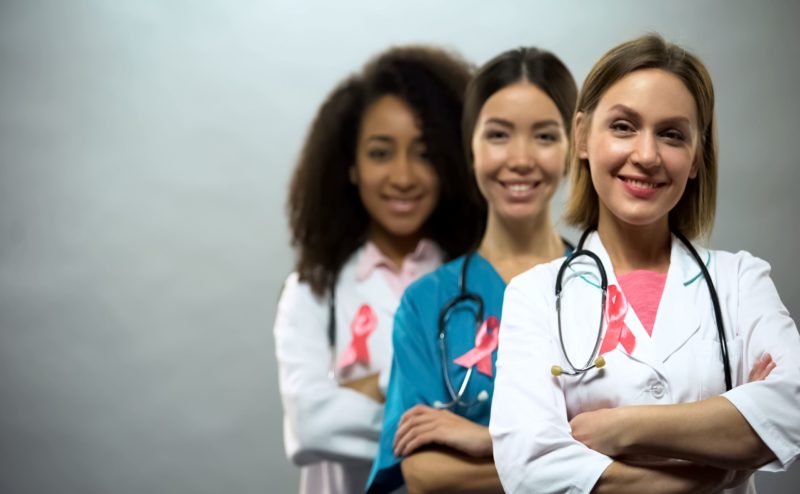 Team, Family, and Support
Whatever it takes to get healthy again is worth it to the patient and her family. It will also involve chemotherapy and radiation.
Zannia Cruz of Orlando, FL, was diagnosed with triple-negative breast cancer (invasive ductal carcinoma) three years ago after finding a lump on her breast. Her mother and grandmother each had breast cancer, so a double mastectomy was the option.
"That was the recommendation from my team of doctors, their protocol for triple-negative," she remembers. "They recommended a hysterectomy as well. People with TN are at a higher risk of cancer in the ovaries too."
Healthy One Month, Life Changed Forever the Next
"I didn't want to live in fear. It's terrible. I did what I could to prevent cancer in those areas. My left breast was healthy too. It was not an easy decision."
Zannia was 52 with a daughter and grandsons and was not about to give in. Along with the surgeries and reconstructive breast surgery, she went through months of chemotherapy and radiation.
What Was the Worst of All of the Treatments? 
"The double mast was the worst. To remove your breasts, my god, it's terrible. I hope someday they can find a different option."
It was physically painful, and the mental aspect was round-the-clock fear. Going through chemo every week following the surgeries weakened everything physically and mentally. 
"It does affect you," she says. "The chemotherapy was rough. Early on, I thought I was going to die. I went to a very dark place."
Support is Vital for Breast Cancer Treatment
She was comforted by a supportive family and the chemo staff, most of whom had gone through it themselves. She credits a solid medical team spread throughout Orlando and directed by her surgeon.
Zannia continues to deal with after-effects and discomfort, along with checkups and testing monthly. She calls herself a fighter, not a survivor, but credits her doctors, family, and faith for a mostly healthy life that leaves her free to drive, travel, and enjoy a life she didn't know she would have.